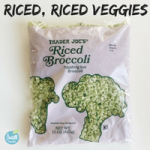 October 25, 2016
When it comes to healthy eating, my motto is eat this, not don't eat that.
Raise your hand if you know what the "this" is??
Yes, smarty pants!  It's VEGETABLES!  By now I'm sure you guys know I'm completely obsessed with getting enough vegetables into my diet.  Most Americans don't even come CLOSE to the ideal amount of vegetables that need to be consumed in a day – anywhere between 6 1/2 and 13 1/2 CUPS!