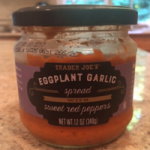 I live for the Veggetti.  It's this cute little gadget that makes veggies turn into spaghetti!  It is so easy to use and takes less than one minute to spiralize one zucchini.
Once I spiralize it, I saute it up with some olive oil and sea salt, and add some type of pre made sauce.   EASY.  QUICK.  HEALTHY.  Right up my alley.
Today I want to share my newest discovery from Trader Joe's.  (Click here to see how I feel about Trader Joe's.)
It's called Eggplant Garlic Spread and like I stated above, after you saute the zucchini, mix some right in and you've got yourself an easy snack, side dish, or even a lunch if you throw in some beans or nuts for protein.
To show you just how easy it is, my daughter helped me create a new musicly:
As you know I am obsessed with eating enough vegetables on a daily basis.  I frequently eat salads for lunch, but sometimes I'm in the mood for something warm, and this is the perfect solution.
So next time you are in Trader Joe's, pick some up, along with a zucchini and some parmesan, and give it a try!
Zucchini with Eggplant & Garlic Spread
Ingredients:
1 zucchini (with the ends cut off)
1 tablespoon extra virgin olive oil
1 teaspoon sea salt
1/8 to 1/4 cup of Trader Joe's Eggplant & Garlic Spread
parmesan cheese to taste
Directions:
Spiralize the zucchini using the Veggetti.
Cut the spiralized zucchini a few times so the pieces aren't so long.
Heat the olive oil in a medium pan.
Saute the zucchini for 3 to 5 minutes.
Add salt and eggplant spread and saute for another minute.
Put in bowl and sprinkle parmesan on top.
Like this article?  Then share the love!
If you enjoyed this article and want to get great tips like these delivered right to your inbox, please click here and enter your email to begin receiving weekly updates from Instill Health. Also, be sure to like us on facebook because you will find amazing recipes there that are not posted on the Instill Health website.