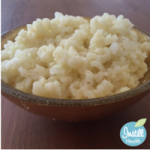 I'm very excited to tell you about my latest discovery – riced cauliflower.
Basically, it's cauliflower shredded down into crumbles that resemble rice.  And the best part? You can buy it already riced!  So far I've seen it in two places:  Whole Foods and Trader Joe's. You can bet that it's much cheaper at Trader Joe's so you might want to try there first.  Trader Joe's also has frozen riced cauliflower in addition to fresh, so I highly recommend always having a bag or two in your freezer for days you want to whip up a quick veggie dish.
This recipe has 6 ingredients, takes 10 minutes to prepare and is the perfect side dish.   You can even jazz it up if you want by throwing in some peas or chopped mushrooms.  For my kids sake, I like to keep it simple, but you can bet when I make this for myself I go nuts-o with the add-ins!
Riced Cauliflower with Parmesan
Ingredients:
1 1/2 tablespoons butter
1 bag riced cauliflower
1 garlic clove, minced*
1/4 cup shredded parmesan cheese
1 medium onion, chopped
salt, to taste
Directions:
Melt butter in medium sized frying pan.
Add garlic and onions and saute for 3 ish minutes (or until onions are translucent).
Add riced cauliflower and saute for 7 ish more minutes or until cauliflower is soft.
Sprinkle in parmesan and make sure it is thoroughly mixed in.
Add salt to taste.
Serve hot.
*Another fantastic time saver is buying pre minced/crushed garlic.  I found it at Trader Joe's in the freezer section.  The brand is Dorot. (See picture below.) It comes packaged in cubes and you push out one cube (or more depending on the recipe).  GENIUS.
If you enjoyed this article and want to get great tips like these delivered right to your inbox, please click here and enter your email to begin receiving weekly updates from Instill Health. Also, be sure to like us on facebook because you will find amazing recipes there that are not posted on the Instill Health website.