You have great hygiene.  You put on nice clothing.  You color your hair.
You do all of these things without thinking twice. Yet, when it comes to fueling your body and giving it exactly what it needs, it's the last thing that comes to mind.  And it's not even a priority.
Yet it consumes your thoughts, daily.
I want you to imagine something.
I want you to imagine what it would be like to completely transform your way of planning, prepping, cooking and eating in 3 months.
Imagine knowing exactly what it would mean to eat healthfully but even more importantly exactly HOW to make it happen. And without stress or drama. You just do it.
And then…
Imagine being excited to wake up and start your day because you feel so darn good.
Imagine looking in the mirror and loving what you see.
These are the REAL results you will see.
Introducing: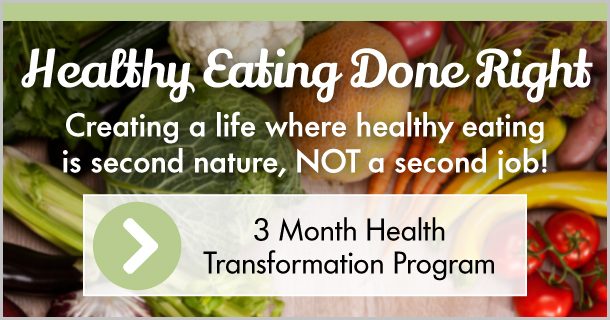 Healthy Eating Done Right is a 3 month program that will teach you the skills necessary to create a life where healthy eating becomes second nature, NOT a second job!
And I get it… You're probably thinking…
But I'm so busy…
But I work full time…
But I hate cooking…
But I have kids that require all of my time and energy…
Yes – life gets in the way.  It does for everyone.  But this does not (and should not) mean healthy eating is off the table.  By following a plan formulated just for you based on your needs and lifestyle, and by reinforcing your new healthy habits for 3 months with me by your side, healthy eating will become second nature, no matter how busy you are.
"To change your body you must first change your mind"
Ask yourself these questions… And think about your answers.
Do you struggle with what to eat on any given day?

Do you find it stressful to eat out because it's so hard to be 'good'?

Are you the type of person who starts out the day eating healthfully, but loses it by 3:00 P.M.?
Now imagine knowing exactly what you are going to eat at all times. Imagine starting your day by nourishing your body with tons of vitamins and nutrients.  Imagine knowing exactly what to snack on and what to eat for lunch.  Imagine not craving that cup of coffee at 4:00. Imagine having a plan for dinner EVERY night.  And of course, imagine that all (OK, most) of the food you put into your body will nourish you, not bring you down.
That is what it feels like to live a life where eating healthfully is second nature.  
And it feels good.  REALLY good.  
Maybe you finally start that business you've always dreamed of. Or have enough energy to coach your kid's team? Or even go back to school to up your education and get that promotion you've been waiting to go for until after until you felt better…
It can start today and I want to show you how.
"A healthy lifestyle not only changes your body.  It changes your mind, your attitude, and your mood"
You in?  You ready to finally get it??
I'm sure by now you have a few questions.  Let me see if I can answer them:
What exactly is Healthy Eating Done Right?
It's 3 months of working together to help you reach your optimal health and wellness.

It's 3 months of learning & reinforcing new healthy eating habits.

It's 3 months of following a plan customized to fit your personal needs.

It's 3 months of understanding how to seamlessly incorporate healthy eating into your busy life.
How will this all happen?
with 8 one hour private coaching sessions, either by phone or in person if local

with personalized action items to be accomplished between sessions.

with unlimited access to me via email or phone throughout the 3 months to answer any and all questions or concerns

with simple recipes for nutritious and delicious meals, snacks, smoothies, and desserts

with support and guidance from me every step of the way
Transforming your way of eating is not about dieting.  It's not about deprivation.  It's not about following a strict regimen of what you can and can't eat.  It's not about losing a few pounds and then gaining them right back when the program is over.
How do I know if this program is for me?
This program is for you if you are not happy with how you look and/or feel and want to do something about it.  But it's also for you if you feel your diet is lacking nutritionally and you want to learn how to upgrade it for the long haul.  Lastly, this program is for anyone who wants to improve their family's diet.  Because children are the best imitators and you want to have eating habits worthy of imitation.   
"Your kids watch you for a living.   It's their job; It's what they do.  That's why it's so important to try your best to be a good role model."
I know the ins and outs of eating healthfully.  So why do I need this program.
Your knowledge of healthy eating is irrelevant.  You can know every single thing there is to know about good nutrition but if you're not actually doing it, if it's not SECOND NATURE to you, then the knowledge itself isn't cutting it.  You need more.

What if I still am not sure if this is for me?
Then let's talk.  Let me answer your questions.  Let's get to know each other a bit, and let's see if we are a good fit.  You can reach me at laura@instillhealth.com.  
What can I expect to feel when the program is over?
You can expect to feel cleansed, full of energy but most of all, EMPOWERED!
What do I get or how is this going to help me?
Over the course of this 3 month program, I will be committed to helping support you through your journey through coaching via phone and email. You'll receive 8 coaching sessions over the course of 3 months with guided personalized action items, new delicious recipes to taste, and other resources to ensure you have the support you need.
"Your body will be around a lot longer than that expensive handbag.  Invest in yourself."
What if I am not satisfied when the 3 months are over?
I am so confident in this program that if you are not satisfied when the 3 months are over,  I will provide you with a full refund.   My one requirement is that you ONLY ask for a refund if you can honestly say that you put 100% of your effort into the program by turning in all of your homework and are STILL not satisfied.  Bottom line – this program only works for people who are truly committed to change.  If you dedicate yourself to the program and give it your all, I have no doubt the program will exceed your expectations!
What are the next steps?
Email me so we can set up a time to talk.  We'll discuss what you see for yourself and I'll help you create a plan that will deliver. This isn't about new years resolutions or dieting. This is about creating daily fuel, daily wins, and feeling amazing while doing so.
THIS IS NOT A DIET.
This is about looking at every day as an opportunity to nourish your body and brain with nutrients. Stop turning to your caffeine that isn't getting the job done.
And while we're on the subject of everyday, how are you fueling your family? And their bodies? As the CEO of your home, they follow your lead. Now is the time to begin setting that example. Lead your family into good health. Not into bad habits.