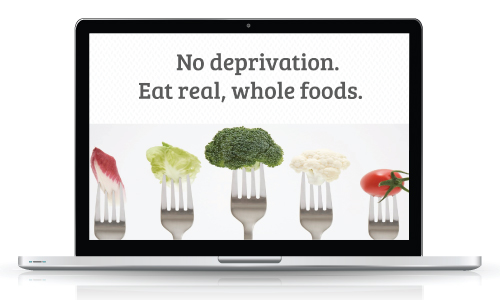 Fresh Start 28 —  a 28 day online learning program designed to help you finally get healthy and lose weight…once and for all.
This program was made for you, especially if you've tried every new trendy diet to no avail, struggled to lose the same 5 to 10 pounds for years now, or have become so frustrated with food and eating in general and are at your wits end.
This program was also made for you if you simply want to upgrade your health and/or the health of your family, and need a step – by – step guide to help make it happen seamlessly.
Nothing is more frustrating than wanting to be happy with how you look and feel, but not being able to make it happen. Add to that the anxiety that comes from knowing you are only getting older, and that eating the right foods is the key to living a long, healthy life.
Hi, I'm Laura Deutsch and, as a reformed low fat cheetos eater and diet coke drinker who now thrives on healthy eating, this frustration is close to my heart. After realizing that so many people struggle with this exact issue, I wanted to help. I discovered most aspiring healthy eaters struggle with one of four core problems:

You're about to learn exactly how to make healthy eating become a way of life, not a phase — and give yourself the best possible chance of making it a forever thing, once and for all.

Fresh Start 28 walks you through exactly what you need to understand, know and — most importantly — DO in order to transform your current diet and get to the weight that makes you feel good.

This program is built to help you:
seamlessly upgrade your diet & effortlessly lose weight as a result.

build confidence in knowing exactly what you should be eating, when you should be eating it, and how to prepare it easily.

escape the guilt of eating foods you think you should not be eating (Because you CAN eat them).

avoid the exhaustion and defeat of the typical 'on again – off again' dieting cycle.

create healthy meals and snacks no matter how busy or 'cooking challenged' you are.

learn how to shed excess pounds without ever feeling deprived.

quickly become excited, inspired, and motivated to continue with your new way of eating.

discover the secrets to making your new way of eating a forever thing.

STOP procrastinating and worrying about when you are finally going to eat right & lose weight.

Fresh Start 28 is a self-paced 28 day online program.  You control when you start.  Once you begin, it is encouraged to complete the full 28 days in one shot for optimal results. 
Each week you'll get access to a video (four in total) which can be viewed or listened to from your lap top or mobile device along with a supplemental guide that includes the step-by-step instructions, meal plan, shopping list, and recipes for that week.
During the duration of the program, I am accessible and am happy to answer any questions you have regarding the program.  Email me anytime at laura@instillhealth.com and I will return your email promptly.


"Fresh Start 28 really impacted me. Laura changed how I view food and for the first time in my life I truly am enjoying eating nutritious foods. Each week I looked forward to watching the next video because Laura's ideas & advice just made so much sense. I especially loved how simple (yet delicious) her recipes were. If you are sick of the typical diet, then this is definitely the program to try!" ~ Rachael F.

"Thank you Laura! Your practical take on food and eating was refreshing! I avoided the 'extras' and easily lost 5 pounds. :)" ~ Tracey D.

"I am so happy I found Laura's program. Do not hesitate to sign up if you are on the fence. You can't help but be motivated by Laura. Her positive energy is infectious. As a result of completing her program, healthy eating is just a routine, not something I consciously think about. And the best part? My kids are now eating so much healthier as a result. Thank you Laura!!" ~ Stephanie W.

"Laura's program helped me see food in a whole new way.  With small baby steps she introduced new shifts each week.  By the end of the program I was hooked.  Even my 7 year old wanted to jump on the 'healthy way of life' bandwagon!" ~ Leslie B.

"Laura's passion for teaching us how to treat our bodies with respect truly shines through – she is engaging, straightforward, and illuminating.  Throughout the program I truly felt full enough and thoroughly nourished.  It was so much simpler and easier than I had imagined, as Laura expertly and lovingly shares the roadmap for how to transform and thrive without ever feeling deprived."  ~ Jennifer R.

For most of my life, calorie intake was my priority.  Good nutrition wasn't really a concern, as long as I could fit into my jeans. But then my daughter was born and everything changed.
I wanted nothing but the best for her, and eventually my son as well.  And that was the impetus to getting me started on my new way of eating and living.  Food now plays a very different role in my life.  It's there to nourish and sustain me and my family.  And as a result of completely upgrading my diet, I've never felt or looked better.
As a mom, I've encountered so many other moms who wish they could eat more healthfully, both for themselves and their families, but just don't know how to make it happen.
I really wanted to help.  Especially because I know that changing your eating habits can be very intimidating, especially when your life is already filled to capacity and finding the time just doesn't seem feasible.  So I've taken the most important lessons I've learned through becoming a certified health coach and walking the walk, and turned them into a clear, step-by-step, affordable roadmap. 

Fresh Start 28 comes with a 100% satisfaction guarantee. If you do the work and follow the instructions to a T, and you still find that you didn't get any value from the experience, please write us within 30 days of your purchase for a full refund. We require your honesty that you really put your all into the program and a detailed explanation of what didn't work for you as well as pictures of the recipes you've tried so we can continue to improve. The reason we ask you to give the course 100% effort is because we know that if you take the steps detailed in the program — you'll absolutely upgrade your diet and have the healthy home you've always desired.