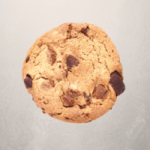 I can't remember the last time I baked with vegetable oil or white flour or white sugar.  Why? Because the main reason I bake is so that my family has slightly less of a chemical concoction for dessert than the typical store bought items.
You see, we are a dessert family.  Without fail we have dessert every night after dinner. That's what was done in my home growing up,* and I think it is actually part of my DNA .  I CANNOT go to sleep without eating dessert.
Sometimes it's Justin's Peanut Butter Cups. Sometimes it's ice-cream. Sometimes it's 16 Handles.  Sometimes it's Whole Foods Organic Chocolate Chip Cookies or Milanos or Newman-O's.
Even the 'healthier' desserts out there are filled with crap.  Milanos?  Hydrogenated soybean and/or cottonseed, soy lecithin and vegetable oils.  Newman O's?  A little better – only soy lecithin.  Justin's Peanut Butter Cups?  Even better – the soy lecithin is organic – but organic or not, still not good. (Click here to find out why soy lecithin isn't good.)
So what is my point here?