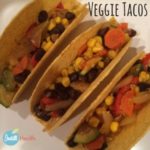 November, 2017
Fact:  When I cook a new, healthy dish for my family, the percentage of family members who like it looks something like this:
I like it 99% of the time (obv).  My husband likes it 90% of the time (probably less but he knows better).  My 12 year old daughter likes it 50% of the time and my 9 year old son about 70%.  
So as you can see, it is quite easy to please me and my husband, but not necessarily my kids.  
Fact:  I don't take a strong stance for or against any certain way of eating.  In my opinion, the key to health is tons of veggie consumption.  
Fact:  VEGETABLE TACOS RULE Continue reading →