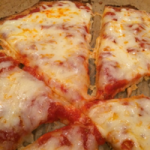 October 4, 2016
Pizza night.  We have it once a week.  Let me set the picture:
The kids get Amy's pizza with a side of edamame (for some protein) and a serving of vegetables while I concoct something a bit more nutritious for me and Brian.  Then, for the entire dinner we both longingly eye our children's plates hoping for a bit of leftover scraps.
Sad, right?
Well scrap no more!!!
I've discovered cauliflower crust pizza and it is GOOD!!  DELICIOUS, in fact!!
Stop rolling your eyes!  I promise you this is such a great way to have pizza and not feel guilty about it! 
I made my first cauliflower crusted pizza about 2 weeks ago and since then have made it two more times.  The great news for you is that each time I made it I figured out how to make the process of getting the cauliflower to the correct consistency more and more seamless.  My final attempt at making the crust took me 10 to 15 minutes.
Here's what happened:
The first time, I bought a head of cauliflower, cut it into florets, and dealt with all of the crumbly cauliflower that inevitably gets all over the place.  It took about 4 minutes to get it to the correct consistency in the food processor and another 4 minutes to get rid of the crumbles all over the counter and floor. 
The second time I bought the florets already cut up, DIDN'T have the crumbly mess, but it still took the same 4 minutes to get to the correct consistency in the food processor.
Third time was the charm.  I bought cauliflower rice from Trader Joe's, had no crumbly mess, and was able to get it to the correct consistency in half the time, since the cauliflower was so chopped up to begin with!
I am proud to say that Brian and I can now enjoy pizza night the right way – by actually eating pizza!
Cauliflower Crusted Pizza
Ingredients:
1 bag cauliflower rice from Trader Joe's*

1 egg

1/4 cup parmesan

1/4 cup nutritional yeast**

1 teaspoon salt

1 teaspoon oregano

1 teaspoon basil

1 teaspoon garlic powder

About 1 cup of your favorite jarred marinara sauce

About 1 cup of shredded mozzarella cheese
*1 bag of cauliflower rice is 16 ounces, so if you find it in another store, just make sure it is about the same amount.  Also, if you can't find cauliflower rice you can of course use one head of cauliflower but make sure to use just the florets and not the stems. 
**I discovered nutritional yeast when I went through my vegan phase.  It has the consistency of parmesan and has a cheesy taste as well, but it is dairy free.  Here is what it looks like: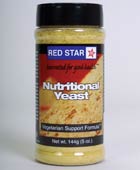 Also, please note that this recipe (using one bag of cauliflower rice) makes enough pizza for 2 not so hungry people or 1 1/2 moderately hungry people.
Instructions:
Prehead oven to 450 degrees.
Put about half of the riced cauliflower in a food processor and blend until it turns to a powder like consistency.

 

You will need to scrape it off from the sides of the processor a few times to get the cauliflower back to the center of the processor so it can continue to be mixed.  

Once it is completely blended (should take about a minute) remove it from the processor and put it into a medium to large bowl.

Do the same for the other half of the cauliflower.

Have a decent sized (clean) dish cloth laid flat out on the counter.  Take about 1/3 of the powdered cauliflower and put it in the middle of the cloth.

 

Close the cloth around the cauliflower and squeeze as much water out of the cauliflower as you can.

 

Really squeeze it hard.

 

It's amazing how much water comes out!

Repeat for the rest of the cauliflower.

Put the drained cauliflower back into the bowl.

Add the rest of the ingredients (except the marinara and mozzarella cheese) and mix with your hands until well combined.

Spread it out on a greased, parchment lined cookie sheet.

 

Make sure you grease it well or the cauliflower will stick.

 

You want it to be thin.

 

Probably about 1/4 of an inch thick.

 

This is definitely a thin crust pizza recipe.

Bake for 25 minutes.  You want the edges to be brown and crispy and you want to even have some brown spots scattered throughout the middle.  If you don't cook it enough, it will be crumbly.  It will still taste delicious, but you won't be able to pick it up and eat it like real pizza.

Remove the pizza from the oven. Spread with your favorite jarred marinara, sprinkle it with the mozzarella, and put back into the oven.  Cook for another 10 minutes or until cheese gets a little bubbly.

Remove from oven and let cool for a few minutes before you cut it.  An actual pizza cutter is recommended.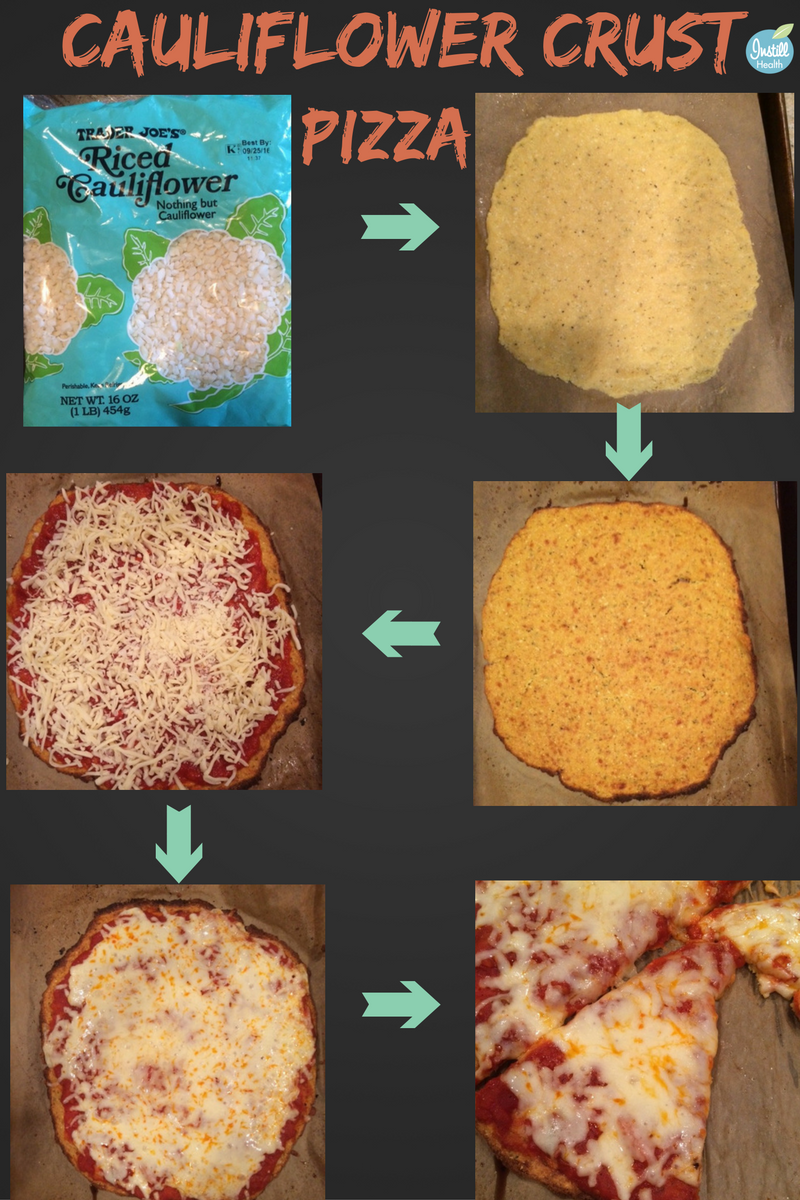 ________________________________________________________________________________________________