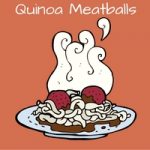 In my prior (to healthy eating) life, if I wanted something for dinner, I'd buy it.  Plain and simple.
So if I was in the mood for spaghetti and meatballs, off to the market I'd go to buy frozen ones.
I'm not saying there is anything wrong with that.  Sometimes.
We all have those days (or weeks) where home cooking just ain't happenin'.
But once my healthy eating journey started gaining momentum, experimenting with recipes and home cooking became much more prevalent.
This post is a shout out to a friend and mentor.  Her name is Rebecca and she is the person who encouraged me to become certified as a health coach.  She is a health coach herself, an amazing cook, makes KILLER granola bars (and sells them!), and is the person who motivated me to make meatballs from scratch.
And man, they are so far superior to any store bought ones!
So today I want to share this DELICIOUS recipe for quinoa meatballs, courtesy of Rebecca from Flavor Your Health.  Thank you, Rebecca, for inspiring me to try new things!
Quinoa Meatballs
Ingredients:
1 lb. grass-fed lean ground beef

½ cup cooked quinoa

2 tbsp chopped fresh basil

1 garlic clove, minced

1 egg

½ tsp salt

Fresh black pepper

2 tbsp extra virgin olive oil for pan
Instructions:
Combine all ingredients (except the olive oil) in a large bowl and mix together with your hands until everything is evenly distributed.

Form small meatballs with your hands and put them on a separate plate.

Refrigerate meatballs for about 20 minutes.

Prepare a plate with some paper towels.

Heat olive oil in pan over medium heat after the 20 minutes has passed.

Gently place meatballs in the oil.  Try not to over crowd the pan.  You may need to do 1-2 batches depending on the size of your pan.

Brown meatballs on all sides.  You will need to move them with a wooden spoon after a few minutes on each side.  You do not need to completely cook them through because they will finish cooking in the tomato sauce.*

Remove meatballs and place them on the plate with the paper towel in order to soak up any excess oil.

Drain the excess oil from the pan and pour tomato sauce into the pan.
Gently place meatballs back into the pan.  Lower the flame and cook covered for an additional 10 minutes.

Serve over whole-wheat pasta, more quinoa or with some steamed veggies.
*In Rebecca's post, she also includes in an incredible recipe for homemade tomato sauce that can be used for this recipe.  Please click here if you would like to use it.  But if you are more in a rush, feel free to use your favorite jarred marinara.  (Rao's rocks.)
________________________________________________________________________________________________