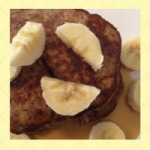 November 29, 2016
Pancakes.  Soaked in syrup, they are truly blissful.
But let's state the obvious.  Pancakes are so good because they are made with the same ingredients as regular cakes. Flour, sugar, milk… they are literally cakes you make in a pan!
Nutrition wise, they just don't cut it.
But they are SOOOO GOOODDDD!!!