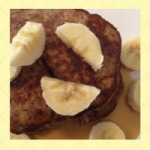 November 29, 2016
Pancakes.  Soaked in syrup, they are truly blissful.
But let's state the obvious.  Pancakes are so good because they are made with the same ingredients as regular cakes. Flour, sugar, milk… they are literally cakes you make in a pan!
Nutrition wise, they just don't cut it.
But they are SOOOO GOOODDDD!!!  
And with winter just around the corner, the snow is a comin'!
With snow comes snow days, and I'm not sure about your house, but in my house snow days elicit MAJOR excitement from my kids in the form of screaming, snow day dances, and the inevitable request for PANCAKES!
Enter gluten free, dairy free banana pancakes!
These are seriously decadent, and even the kids agree.  Flour free?  sugar free?  milk free?  
HOW can they be good??
Just trust me on this one – give them a try and let me know what you think!
Banana Pancakes (Gluten Free & Dairy Free)
Ingredients:
2  medium ripe bananas

2 eggs

1/4 cup almond butter (can substitute peanut butter)

1/4 cup ground flaxmeal

½ tsp. vanilla extract

¼ tsp. ground ceylon cinnamon (use 1/8 tsp. if using regular cinnamon)

1/8 tsp. baking powder

1 tablespoon coconut oil (can sub butter if you are not dairy free)

maple syrup 
Instructions:
Crack the eggs in a large bowl and whisk them.

In another bowl, lightly mash the bananas with a potato masher or a fork.

Add the bananas, almond butter, flaxmeal, vanilla,  cinnamon, and baking powder to the eggs and stir to combine.

Place batter in the refrigerator for 10 minutes to harden a bit.

Heat the coconut oil (or butter if you aren't dairy free) in a medium to large skillet over medium to low heat.

Pour pancake size amounts onto the skillet and cook until the bottom appears set (2 to 3 minutes). Flip with a spatula and cook another minute.

Serve immediately, topped with maple syrup. (Makes 6 – 8 pancakes, depending on how big you make them.)