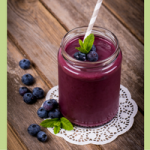 Sometimes I wonder if other people get as much pleasure as I do from seeing their children eat healthy food. There is just something so reassuring about it, knowing that vitamins and nutrients are being flooded through their growing bodies.
Luckily, on these hot, summer August days, smoothies are a big hit in my home.  My 'go to' smoothie for my kids contains almond milk, some frozen or fresh berries, and a bit of raw honey.  Berries are high in fiber, potassium, and vitamins A and C.  My kids love the taste and I love the nutrition.
Just recently I decided to take a chance by adding one more ingredient to their smoothies, hoping they wouldn't notice.  
That day I anxiously handed them their smoothies and they sucked them right down, as usual!  
SUCCESS!
I bet you're wondering what the secret ingredient is.  Ready for it?  AVOCADO!
Avocado is absolutely delicious in smoothies.  You really don't taste it.  It just adds the most decadent, creamy texture to the smoothie.*  And the best part?  The blueberries hide the green color!
And there you have it – a healthy, kid friendly, and delicious snack.  Enjoy!
*In fact, I've started adding avocado to ALL of my smoothies!
Healthy, Kid Friendly Smoothie
Ingredients:

1 cup almond milk (can use any milk)

3/4 cup frozen blueberries

4 to 5 fresh strawberries

1/2 medium avocado

1 tablespoon honey 
Directions:
Place all ingredients in a blender and blend on high for one minute.  If it is too thick, feel free to add more milk or some water to desired consistency.
________________________________________________________________________________________________