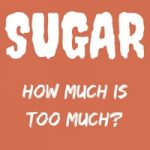 March 1, 2017
Check out the menu below.
It very well could be what a kid would eat in a typical day, right?
breakfast:  Life cereal & milk
snack:  granola bar
lunch:  turkey sandwich, fruit, goldfish, juice box
snack: fruit
dinner:  chicken parmesan and broccoli
dessert:  scoop of ice-cream
Seems harmless enough, right?
Wrong.