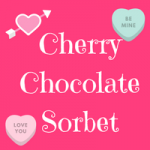 February 14, 2017
Happy Valentine's Day!
I have to admit, I'm really not a Hallmark holiday person.  In fact, I despise buying cards.  They are ridiculously expensive and I feel like I'm throwing money down the drain.
Just call me Debbie Downer!
That is why I prefer 'verbal cards.'
Verbal card = message to a loved one executed through the mouth, not via purchased stock paper.
You should try it.  It's so liberating.  And actually quite personal.  Think about looking at someone you care about in his eyes and telling him your sentiment, directly to his face.   
Talk about a Hallmark moment!
And then you can use the money you save on Valentine's Day cards to buy the ingredients for this delicious chocolate cherry sorbet!
— The sorbet is red, which sets the mood for Valentine's Day.
— It's healthy, which is a nice change from all of the crap you (and your kids) probably ate today in celebration of this day of love.
— It's delicious. No seriously, it's really refreshing.
Lastly, here is my verbal card to you (pretend I'm talking):
Dear Instiller,*
On this Valentine's Day I want you to know how much I appreciate your support. You rock!! Have a sweet, (mostly) healthy day!
xoxo,
Laura
*Instiller = amazing person who does her best to eat healthfully most of the time
Chocolate Cherry Sorbet*
Ingredients:
2 cups frozen cherries

1 1/2 tablespoons cacao powder

1/2 to 3/4 cup vanilla almond milk

4 to 5 dates
Directions:
Blend all ingredients in a blender on high for 2 minutes.  Either eat right away or put in the freezer for 30 minutes to one hour if you like a harder consistency. 
*This recipe is adapted from Dr. Joel Fuhrman's book, Eat for Health.