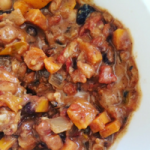 February 21, 2017
I was a slow cooker virgin.  I'd heard such great stuff about slow cookers and how easy they are to use.  I actually attempted to buy one in Bed Bath and Beyond. Twice.   But I think I had a case of analysis paralysis.  Do I buy a 4 quart?  a 6 quart?  Do I get one with fancy features like steaming and browning?  
And it's not like I was making the purchase of a lifetime.  It was a SLOW COOKER, for goodness sake!
I had coffee with a friend who is a big cook so I asked for her opinion.  She told me she had the Cuisinart 3-in-1 Cook Central 6 Quart Multicooker.  Not only was it a slow cooker, but it could steam and brown as well.  I had just done a major spring cleaning in my kitchen and knew I had the room to store it, so I decided (for the third time) to finally get one.  
But this time I didn't think.  I just went onto the Bed Bath and Beyond website, used my 20% coupon, and bought myself my first slow cooker!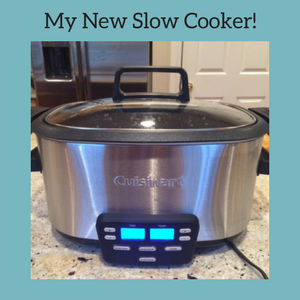 Once I received it, I couldn't wait to try it!  I thought, what better way to start off my slow cooker journey than to make a hearty vegetable chili?  This chili has sweet potatoes, carrots, peppers, beans, crushed tomatoes, and another secret ingredient.  You ready for it? 
PEANUT BUTTER!
Yes, peanut butter adds such a nice richness to any chili.  Trust me.  I know it sounds weird but try it and you'll see.
I'm happy to report the chili was a success, my husband loved it (not a hard feat), my kids loved it (much harder), and it is now in my repertoire of dinner recipes! (And I actually used almond butter since my kids are allergic to peanuts.)
Before I give you the recipe, I also want to report that I tried using the steam feature yesterday and it resulted in perfectly steamed broccoli.  All you do is you turn it on, press 'steam', and then program how long you want it to cook once the water in the cooker starts boiling.  I put in 10 minutes and didn't have to think until the buzzer went off.  
I have yet to try the browning capacity, but will report back when I do!
Slow Cooker Vegetarian Chili
Ingredients:
4 garlic cloves, chopped

1 medium onion, chopped

1 red pepper, chopped

2 large carrots, chopped into coins

1 medium to large sweet potato, peeled and cut into bite size pieces

1 28 ounce can fire roasted diced tomatoes (can use plain roasted diced tomatoes if you don't like heat)

1 can black beans, rinsed

1 can kidney beans, rinsed

1/2 cup creamy peanut butter

1 cup vegetable broth

1 tablespoon cumin

1 tablespoon chili powder

1/2 teaspoon salt

1/4 teaspoon cinnamon (I prefer ceylon cinnamon)

2 teaspoons cocoa powder (unsweetened)

toppings:  shredded cheddar cheese, sour cream, avocado
Directions:
In a slow cooker, combine the garlic, onion, red pepper, carrots, cumin, chili powder, cocoa, cinnamon,  & salt. Mix until spices spread throughout.

Add the tomatoes (and their liquid), beans, sweet potato, peanut butter, and vegetable broth.

Cover and cook until the sweet potatoes are tender and the chili has thickened, on low for 7 to 8 hours  or on high for 4 to 5 hours. 

Serve the chili with desired toppings.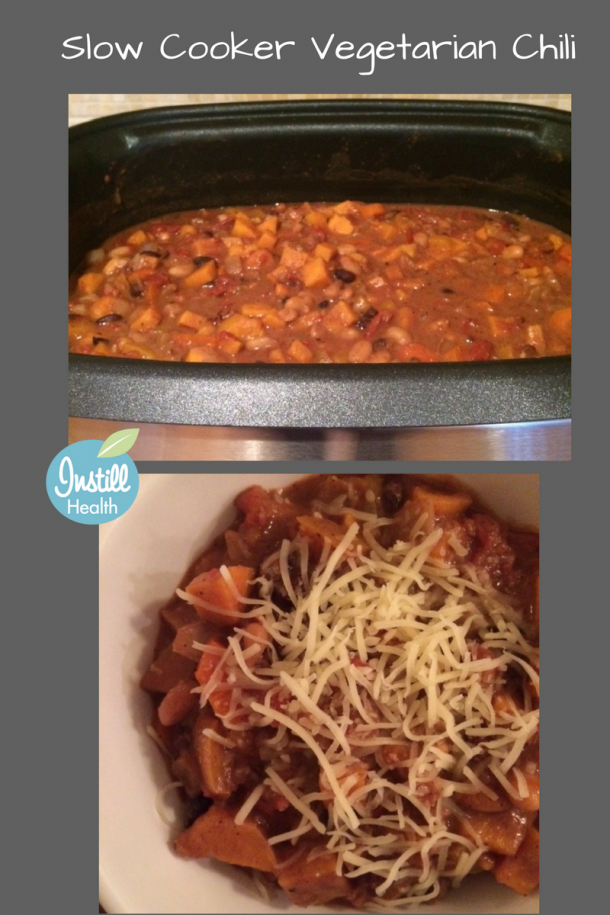 _________________________________________________________________________________________________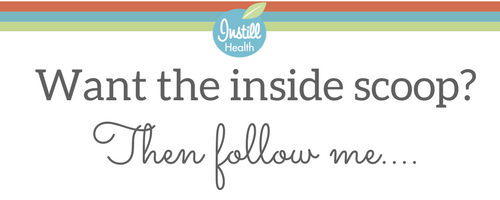 Do you want to know what my favorite kitchen gadgets are?  

Or what I eat for breakfast, lunch, & dinner?

Or incredible new food items I've discovered?

Or lunch ideas for kids?
If so, then you need to follow me on Instagram! 
That's where you'll find out all of the inside scoop – a day in the life of a health coach and busy mom.