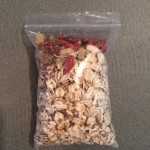 One (of many) great things about oatmeal is that it is super easy to make.  All you have to do is add boiling water.  And even if you don't have time to wait for boiling water you can use your microwave or even use your Keurig for some fast hot water delivery!
As you know from my first oatmeal post, I like to supercharge my oatmeal by adding lots of nutrient dense toppings.  But by doing so, it starts to take more than just a minute to make by the time I take out all of the toppings, measure them out, put them in my oatmeal, and put them away. 
I wanted my mac daddy oatmeal and I wanted it fast and this is how my Oatmeal Packets were born!