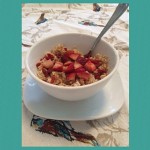 The Great:  I am obsessed with oatmeal.  It is literally one of my favorite foods.  And I love how versatile it is.  You can have it for breakfast, lunch, or dinner – it works anytime of the day!  My kids love oatmeal too, and it is such an easy and healthy dish to whip up. 
Oatmeal has tons of benefits for our health.  It's naturally gluten free, rich in vitamins, minerals, and lipids, extremely low in sugar, and high in both protein and dietary fiber.  And that's just the oatmeal itself!  But you need to be careful of which oatmeal you get, which leads me to…
The Not so Great:  Instant oatmeal.  There is no way around it.  Packaged instant oatmeal is high in sugar and sodium, contains chemicals, and is lower in beneficial fiber.  Look at the ingredients of a typical instant oatmeal.  Note the sugar is the second ingredient!
WHOLE GRAIN ROLLED OATS, SUGAR, NATURAL AND ARTIFICIAL FLAVOR, SALT, CALCIUM CARBONATE, GUAR GUM, CARAMEL COLOR, NIACINAMIDE*, REDUCED IRON, VITAMIN A PALMITATE, PYRIDOXINE HYDROCHLORIDE*, RIBOFLAVIN*, THIAMIN MONONITRATE*, FOLIC ACID*.
And now look at the ingredients of Old Fashioned Rolled Oats (the good kind!)
WHOLE GRAIN ROLLED OATS
See the difference?
And while we are at it, there are 3 ideal types of oatmeals:  steel-cut oats, old fashioned rolled oats, and plain old rolled oats.  As soon as you see instant or quick, you are losing most of the nutritional benefits.
The Best:  Are you ready for the finale?  Add these following toppings and you have a grand slam of a nutrient dense meal: 
Ground flaxseed – rich in Omega-3 fatty acids
Goji berries – the most nutritionally dense fruit on Earth!  HELLO goji berries!
Walnuts – another powerhouse containing unique antioxidants, Omega-3's, copper, & manganese
Blueberries (or any other berry or fruit)
And if you are like me, and need a little added sweet touch, try using a little (key word here being little to keep the sugar content down) honey or coconut crystals (lower glycemic index than sugar).  To avoid sugar completely, try using Stevia. 
So next time you don't feel like cooking dinner – make it an oatmeal night!  I dare you!
If you enjoyed this article and want to get great tips like these delivered right to your inbox, please click here and enter your email to begin receiving weekly updates from Instill Health.