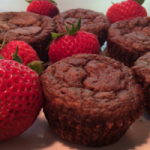 I don't know what I was thinking.
Yesterday I bought a 2 pound container of strawberries.  Two pounds!  We rarely get through a 1 pound container without some of them going bad!
But I couldn't help it.  I got so excited when I saw a 2 pound package of ORGANIC strawberries being sold at Trader Joe's!  How could I NOT buy them?  Deal of the century!
So I decided to make a preemptive strike against wasted fruit by figuring out a way to use some of the strawberries right away.
Enter Strawberry Oat Muffins!
Muffins are always a safe bet.  Who doesn't love a good muffin?  Plus, muffins are so easy to 'health up.'  By using coconut oil, oats, flaxseed, and strawberries, these muffins score high marks on the health front.
In fact, these muffins are way more nutritious than most breakfast cereals out there, so tomorrow I will have them warmed and ready to eat when my kids come down for breakfast.
I wanted to try using the strawberries a little differently.  Instead of cutting them up and having chunks of them in the muffins, I decided to puree them so that they blend in completely. Pureeing them is simple.  Just cut off the stems, put them in a blender with a tablespoon or 2 of water, and blend till smooth.
This proved to be delicious, as the strawberry flavor was pervasive in every bite!
Last but certainly not least, these muffins are EASY to prepare.  (By now you probably know I don't make anything that ISN'T easy!)  Throw all ingredients into a bowl, mix together, and bake.
FYI, I still have so many freakin' strawberries left!
Note to self:  Double this recipe next time I buy a 2 pounder!
Strawberry Oat Muffins
Ingredients:
1/4 cup coconut oil (melted)

1 egg

1/2 cup almond milk

2 cups cut up strawberries, pureed*

3/4 cup oat flour

1/2 cup old fashioned oats

1/4 cup ground flaxseed

1/2 cup coconut sugar 

1/2 teaspoon salt

2 teaspoons baking powder

1/2 cup walnuts or pecans, crushed (optional)
*Cut each strawberry into 4 to 6 pieces and then measure out 2 cups.  Put in blender with 2 tablespoons of water and blend until smooth, about 30 seconds to one minute.
Instructions:
Preheat oven to 375 degrees

Combine oil, egg and almond milk in a big bowl.

Add the rest of the ingredients and mix well

Pour into well greased muffin tins (I like using liners).  This recipe makes 12 regular sized muffins.

Bake for 20 minutes.
Want to jump-start your health?  Click here to get your free 3 day healthy meal plan specifically designed for the busy person who wants to jump-start her health!  Included is a shopping list, prep guide, and easy, delicious recipes for all 3 days.  Also, be sure to like us on facebook because you will find amazing recipes there that are not posted on the Instill Health website.