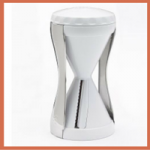 It's hard to believe that a kitchen gadget the the size of my hand could open up a whole new world.
It's called a Veggetti and it turns vegetables into spaghetti!  There are different companies that make this type of tool, but I like the Veggetti because it is small and compact and doesn't take up any precious counter space. (Please note:  I am not a rep for The Veggetti and do not make any money if you buy one. I just freakin' love it!)
So far I've used it with zucchini and squash and let me tell you – they both taste SO MUCH better when transformed into spaghetti!