Quinoa.  High in fiber.   Higher in protein. Contains calcium, iron, potassium and zinc.  Has all essential amino acids.  High in vitamin B.  Gluten free.  Easy to make.
So why the heck NOT have it for breakfast!?!
Now you can.  They're called Quinoa Breakfast Squares and they are hearty, satisfying, and delicious. This is the perfect breakfast for days you wake up craving something warm and comforting.
The recipe makes roughly  8 to 10 servings, so you can freeze what you don't eat for another time.
With winter upon us, I thought this would be the perfect time to share the quinoa love.
Quinoa Breakfast Squares
Ingredients:
2 1/2 cups cooked, cooled quinoa (about 1 1/4 cup raw) prepared per package directions, using 2 cups vanilla (or regular) almond milk as the liquid (instead of water) for added flavor

1/3 cup almond milk

4 eggs, beaten

1/3 cup maple syrup

1 tablespoon Ceylon cinnamon

1 teaspoon vanilla extract

1 cup raisins (optional)
Directions:
Preheat oven to 375°F. Line an 8 x 8 baking pan with parchment paper and grease the parchment paper.

Mix together 1/3 cup almond milk, eggs, maple syrup, cinnamon, raisins, and vanilla.

Add quinoa to egg mixture and stir thoroughly.

Pour into baking dish and make sure it is spread evenly throughout.

Bake for 25 to 30 minutes.

Remove from pan immediately by pulling up on the sides of the parchment paper.

Cut into squares and enjoy!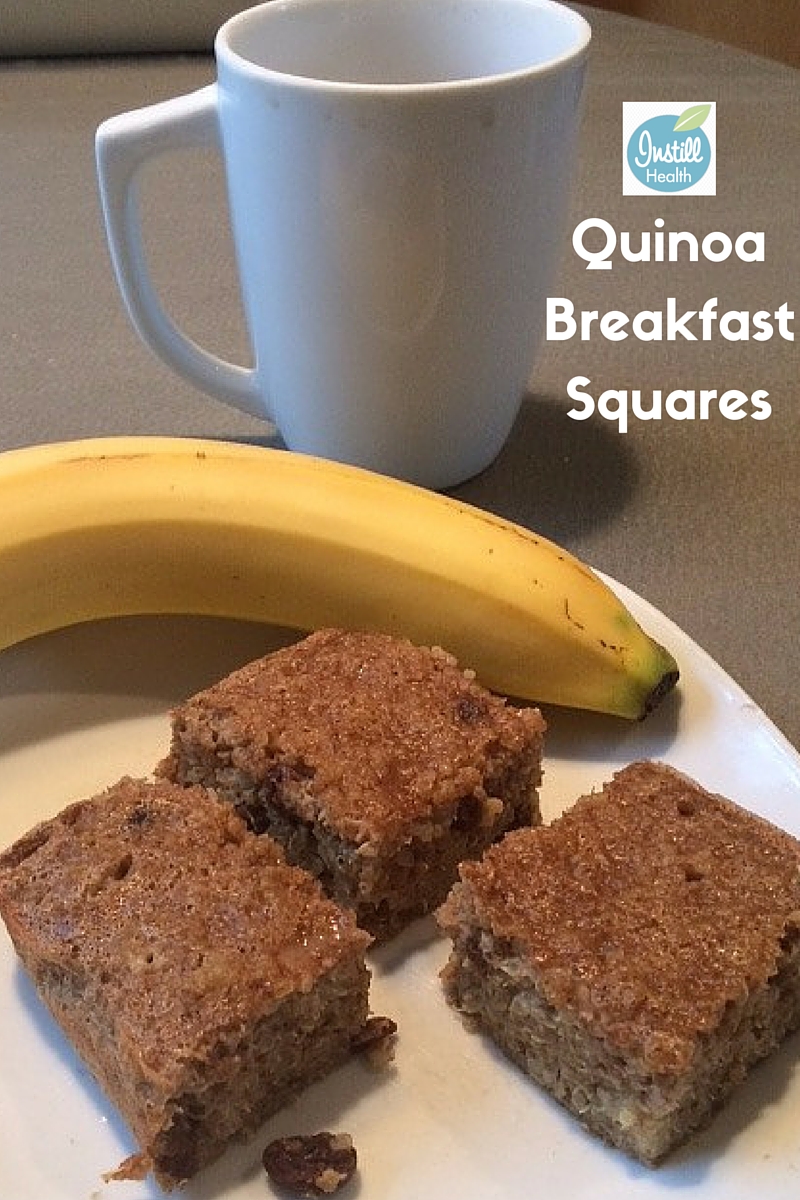 If you enjoyed this article and want to get great tips like these delivered right to your inbox, please click here and enter your email to begin receiving weekly updates from Instill Health. Also, be sure to like us on facebook because you will find amazing recipes there that are not posted on the Instill Health website.