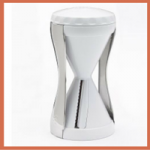 It's hard to believe that a kitchen gadget the the size of my hand could open up a whole new world.
It's called a Veggetti and it turns vegetables into spaghetti!  There are different companies that make this type of tool, but I like the Veggetti because it is small and compact and doesn't take up any precious counter space. (Please note:  I am not a rep for The Veggetti and do not make any money if you buy one. I just freakin' love it!)
So far I've used it with zucchini and squash and let me tell you – they both taste SO MUCH better when transformed into spaghetti!
And the best part is how simple it is to use.  All you do is cut off the ends of the zucchini or squash and twist it through the Veggetti.  It literally takes 20 seconds.
Here is my very first recipe I created using the Veggetti.  For the sake of time ( I am a HUGE believer in keeping things easy), I use my favorite jarred marinara sauce (Rao's) and frozen quinoa I can quickly heat up,  but of course feel free to make them from scratch if you prefer.
This recipe meets my criteria for the perfect trifecta:  1) It's easy.  2) It takes less than 10 minutes to prepare.  3) It's filled with healthy ingredients.
Zucchini Quinoa Parmesan
Ingredients:
1 zucchini, spiralized using a veggetti 

3/4 cup of your favorite marinara sauce (Mine is Rao's.)

1/4 cup grated parmesan cheese

1/2 cup cooked quinoa

2 tablespoons olive oil

salt & pepper, to taste
Directions:
Prepare the quinoa per package directions

Heat the olive oil in a medium pan and saute the zucchini on medium heat for 5 minutes, stirring constantly. 

Pour in the marinara and add the salt & pepper and cook for another minute or two, until marinara is hot.

Mix in the quinoa and serve.

 

Sprinkle with parmesan.
Notes:
After you spiralize the zucchini, you should cut it up a bit so it is easier to sauté.

 

You can adjust the sauce and cheese amount according to your preference.
Been feeling a little gross lately?  Click here to receive the most powerful and effective strategy to BREAK FREE from an unhealthy eating rut and to get your diet back on track.