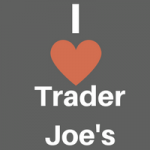 June, 2017
My love for Trader Joe's continues to deepen over time.  Just when I think they've created it all, they come out with more delicious, healthy food options that are beyond simple to prepare.
Check out my new finds below.  I give them both 2 thumbs up!  Why?  Because they meet my 3 criteria for healthy eating done right: nutritious, simple to prepare, and delicious!
Cauliflower Pizza Crust
I am a HUGE fan of pizza made with cauliflower crust.  That said, it still takes time to make the crust, although the creation of riced cauliflower has certainly quickened the process.  But what can beat COMPLETELY done for you crust??  I prepared this according to the package directions, added Rao's sauce, some shredded mozzarella, and sauteed mushrooms, and baked for it for another 5 to 10 minutes.  It was amazing!  And I especially loved that the crust didn't fall apart when I ate it, as often happens with homemade ones.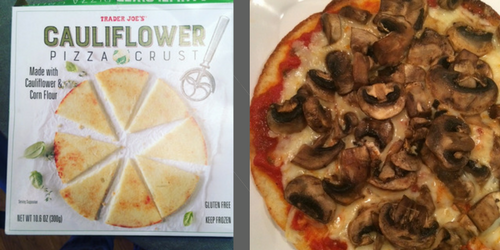 Organic Superfood Pilaf
What an EASY way to make a delicious side dish, or even meal if you add some stuff to it.  It comes in the freezer section and you can either microwave it or sautee it.  What's in it? Quinoa, kale, sweet potato, carrots, onions, and red pepper!  I had it for lunch and threw in some steamed broccoli I had in the fridge, topped it off with some peanut sauce from Whole Foods, and voila – lunch is made!  One pan.  No fuss.  Delicious.  Healthy.  Right up my alley!
I highly encourage you to try both of these new finds.*  And let me know what you think once you've tried them!
*I am not endorsed in any way by Trader Joe's.  I am truly just their biggest fan!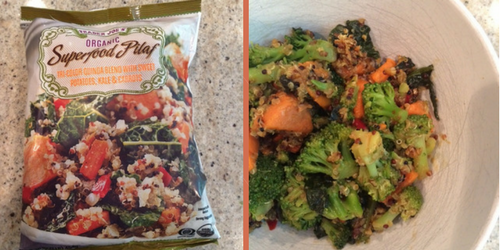 _________________________________________________________________________________________________
How would you feel if I told you that you can jumpstart your health and shed excess weight in 28 days without feeling the pain?  If this intrigues you, then check out Fresh Start 28, an online course unlike no other.