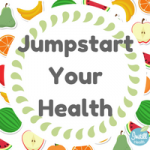 April, 2017
As you know, April is Just Do It Month!
I want to report back and let you know that my daughter is officially enrolled in camp and a weight has been lifted off of my shoulder! 
And now – my second Just Do It thing for the month:  I have a pile of stuff that has claimed space on my laundry room floor for over a month now.  It's become part of the decor. I've gotta Just Do It and deal with having it donated! 
I'm hoping you have completed your one thing.  And if you haven't?  No worries!
On a totally different note, have you ever noticed those people who always make the time to prioritize their health?
It seems like whenever you see them, they have something nutritious in hand, like a green smoothie or green tea?

When they eat out in restaurants they are in total control.

Those same people also seem to have a consistent workout regimen.

They've rubbed off on their kids and even THEY eat healthfully.

They are confident and it shows.
On certain levels, you are (kinda) happy for them.  Good for them for having their sh*t together.
But on the other hand, you can't help but feel that twinge…
WHY CAN'T YOU TREAT YOURSELF WITH THAT SAME RESPECT?
Because when push comes to shove,
YOU want to fuel your body from the time you wake up until the time you go to bed. 

YOU want to feel confident and look fabulous. 

YOU want to be a good role model to your children.
But unfortunately the whole process of 'healthing up' your diet just seems too overwhelming.
Have you ever wondered, "Why can't I get myself to JUST DO IT?"
If you have…you are going to love the following announcement:
Next week, I'm hosting a webinar where I'll be showing you SIMPLE ways to get you started on this journey.
Introducing…
7 Healthy Eating Hacks You Can Implement Immediately to Dramatically Improve Your Health
Learn more and reserve your spot here.
In this free online event you will learn:
The one thing you should be doing every morning, or you are doing your body a huge disservice.

An EASY way to start off your morning right, which will then positively affect the whole trajectory of your day.

A simple way to upgrade the health factor of all your meals.

How to have your pasta and NOT eat it too!

Simple ways to health up your family's diet.

And more hacks that can be seamlessly added to your very busy lives.

It's time to get back on the right track, and it's easier than you think!
In spirit of JUST DO IT month, click here to reserve your spot and take that first step towards jump starting your health.
I can't wait to connect with you then!
_________________________________________________________________________________________________
How would you feel if I told you that you can jumpstart your health and shed excess weight in 28 days without feeling the pain?  If this intrigues you, then check out Fresh Start 28, an online course unlike no other.