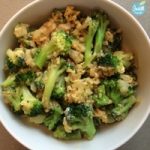 March, 2017
This past Sunday I caught myself at home, ALONE, at lunch time.  It was one of those miraculous times when each member of my family had to be somewhere.
Unfortunately I had not done the food shopping yet, and I was starving.  I knew I wanted to load up on veggies at lunch since I was out the night before, had some cocktails….too much dinner….decadent dessert.  I needed a Sunday mini detox.  But unfortunately I looked in my fridge to find one lonely carrot and half of a cucumber.  
But then I remembered I had lots of frozen veggies in my freezer.  Yay!!  I took out frozen riced cauliflower, frozen broccoli, and frozen onions and thought to myself, "Now what the heck can I do with these?"
And then it hit me.  Fried rice!  The 'rice' being the cauliflower rice!
So I sauteed the cauliflower rice, broccoli, and onions in some olive oil until it was soft, added some salt, and then added one raw egg.  I literally cracked the egg in the pan and mixed it all around until it basically was cooked into the veggies.  And THEN I added some coconut aminos (it's like a sweet soy sauce) and soy sauce and bam –  No carb veggie fried rice!
And it was awesome!  I love when that happens.  I THINK I'm going to have  a pathetic meal and it turns out to be a delicious, healthy creation.
Guys – there is NOTHING wrong with frozen veggies!  I promise you!  ALWAYS have them handy in your fridge.  They are perfect for times when you either don't feel like prepping veggies or simply don't HAVE any fresh ones around.
Preparing healthy meals does NOT have to be a time suck.  This dish took me literally 10 minutes to make.  The key is being prepared, and by that I mean always have frozen veggies on hand.
Grain Free Veggie Fried Rice
Ingredients:
2 cups frozen riced cauliflower

2 

cups  frozen broccoli florets

1 cup frozen onions

2 tablespoons olive oil

1 teaspoon salt

1 to 2 tablespoons coconut aminos*

1 to 2 tablespoons soy sauce*

1 egg, beaten**
Directions:
Heat the olive oil in a medium frying pan.

Add all the frozen veggies and saute until soft, about 7 to 10 minutes, covering the pan for about a minute mid way to speed up the cooking time.  

Add the rest of the ingredients and combine for another 2 to 3 minutes, until the egg has turned solid within the veggies.

Serve hot.
* Feel free to add more or less, depending on your liking.
** Feel free to use two eggs for a richer consistency.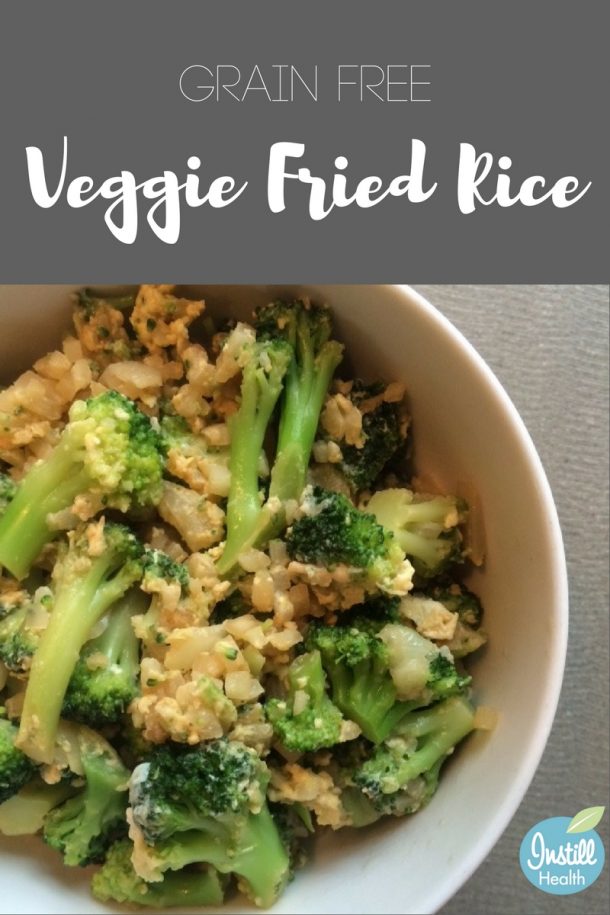 _________________________________________________________________________________________________
How would you feel if I told you that you can jumpstart your health and shed excess weight in 28 days without feeling the pain?  If this intrigues you, then check out Fresh Start 28, an online course unlike no other.