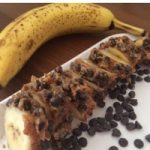 I subscribe to many newsletters relating to nutrition, fitness, etc. One of those newsletter is by a man named Yuri Elkaim.
Recently in his newsletter he shared a recipe for banana sushi!
I thought it was so clever so I decided to give it a try.
Here is what I found:
It is scrummy!
It is fun to eat!
Both kids and hubby LOVED it!
It is the perfect dessert!
It is a nearly perfect snack! (Just go easy on the chocolate chips.)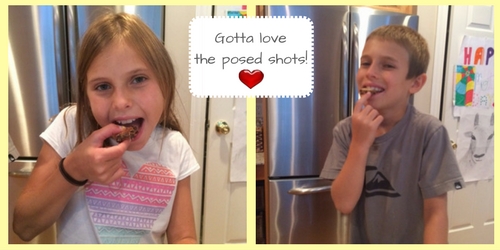 Banana Sushi*
Ingredients:
2 bananas, preferably slightly underripe and shaped more straight than curved
about ¼ cup peanut or almond butter
about ⅓ cup topping of choice, such as: mini chocolate chips, chopped nuts, chia
seeds,  coconut, or any combination of these
Instructions:
Cut each banana in half crosswise.
Stand the bananas up, cut side down, on a plate.
Using a small spoon (or your hands), gently spread the nut butter all over each banana piece.
Place the toppings on a plate.  Transfer the banana halves to the plate and roll in the
toppings.
Place bananas in the fridge for 10 to 15 minutes for the nut butter to set.
Slice the bananas into 'sushi' rounds!
*Recipe adapted from Yuri Elkaim