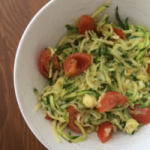 For those of you who have been following my blog for some time, you know I am obsessed with the Veggetti.  For those of you who are new to the blog, you can learn all about the Veggetti and why I love it here.  And here is another post with a Veggetti recipe.
I swear I am not a Veggetti rep.  It's just that it has really opened up my world to healthy recipes with zucchini spaghetti and I truly want to share the love.
SOOO….I am giving away FIVE Veggetti's!  Yup!  5 lucky winners will win the best kitchen tool ever.
And all you have to do to be entered is share this post on your facebook page by clicking here.
But be SURE to add a message and tag Instill Health so I can see you've posted and be sure you are entered into the drawing!   
How about something like: "Check out @Instillhealth for practical, easy tips on how to eat healthfully no matter how busy you are!"
Or "Check out this easy, delicious, and healthy recipe from @Instillhealth that takes under 10 minutes to prepare!"
Or if you are not the chatty type, how about something like "Check out @InstillHealth.  It's awesome."
Or if you REALLY aren't the chatty type, you could simply put "@InstillHealth" just so that I know you posted and I can enter you into the drawing.
Basically, you need to post SOMETHING so that you can tag Instill Health.
This whole process will take you under 10 seconds, and you actually have a GOOD chance of winning since I'm giving away 5 of them!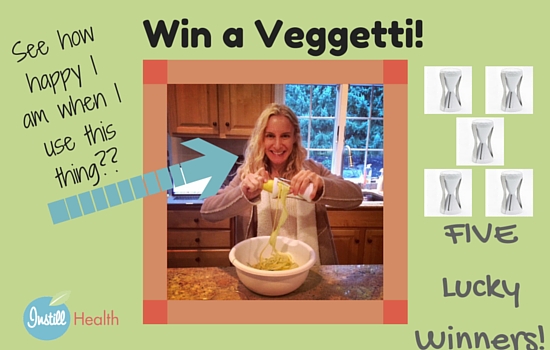 And now for yet ANOTHER delicious recipe using the Veggetti.  Pesto sauce is my new obsession.  I'm not quite at the point of making it from scratch, but Whole Foods makes a MEAN pesto and I bought one at Kings I loved (in picture below)!
Zucchini Spaghetti with Tomatoes, Mozzarella, & Pesto Sauce
Ingredients:
1 zucchini, spiralized

1 tablespoon olive oil

10 to 15 cherry tomatoes cut in half

1/4 to 1/3 cup shredded mozzarella cheese

1 to 2 tablespoons pesto sauce (I buy premade)

salt to taste
Instructions:
Heat olive oil in a pan on medium heat.

Add the zucchini and tomatoes and saute for 3 to 5, until the zucchini is soft.

Add the mozzarella cheese and combine for one minute.

Turn off the heat and mix in the pesto sauce.  Add salt to taste.  Serve warm.
So don't forget to share this here and be entered to win!
(This contest ends on Friday, July 22nd.)