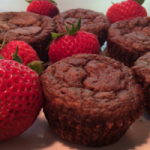 I don't know what I was thinking.
Yesterday I bought a 2 pound container of strawberries.  Two pounds!  We rarely get through a 1 pound container without some of them going bad!
But I couldn't help it.  I got so excited when I saw a 2 pound package of ORGANIC strawberries being sold at Trader Joe's!  How could I NOT buy them?  Deal of the century!
So I decided to make a preemptive strike against wasted fruit by figuring out a way to use some of the strawberries right away.