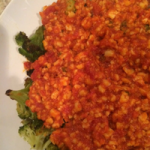 November, 2017
Have you ever cooked with tempeh?  If you haven't, it may seem intimidating. I mean just the name – tempeh??
So what exactly IS tempeh?
According to Dictionary.com, tempeh is a traditional soy product originating from Indonesia.  It is made by a natural culturing and controlled fermentation process that binds soybeans into a cake form.
I know that the benefits of soy is a frequently debated topic.  Here is my take on soy, and why I believe that tempeh is a healthy source of soy.
Tempeh is a great source of plant based protein and is so versatile.  It has a nutty flavor, but when I cook with it I use some type of sauce that the tempeh easily soaks up.
This tempeh bolognese can be used on top of pasta, zoodles, or even roasted broccoli!  My husband, who is a meat guy, actually loved it!  (Full disclosure – he would have loved it even more if I made it with red meat, but that's not the point, right?)
Be prepared for the look and feel of soy.  You can find it in the refrigerator section, and it comes tightly packaged in a small rectangle shape.  Tempeh is whitish and it looks like a block of rice stuck together.  For this recipe, you will need to chop it up into tiny crumbles just like you would with meat.  I use a knife and it only takes 2 minutes to chop up, or you could pulse it in a food processor until it's crumbly.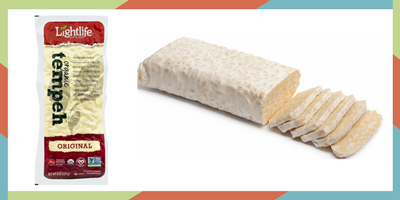 Next you will saute it in some olive oil and spices, and then pour in Rao's marinara sauce and let it simmer for a few minutes.  Seriously one of the easiest recipes ever!
So give it a try!  Be adventurous!  Try something new!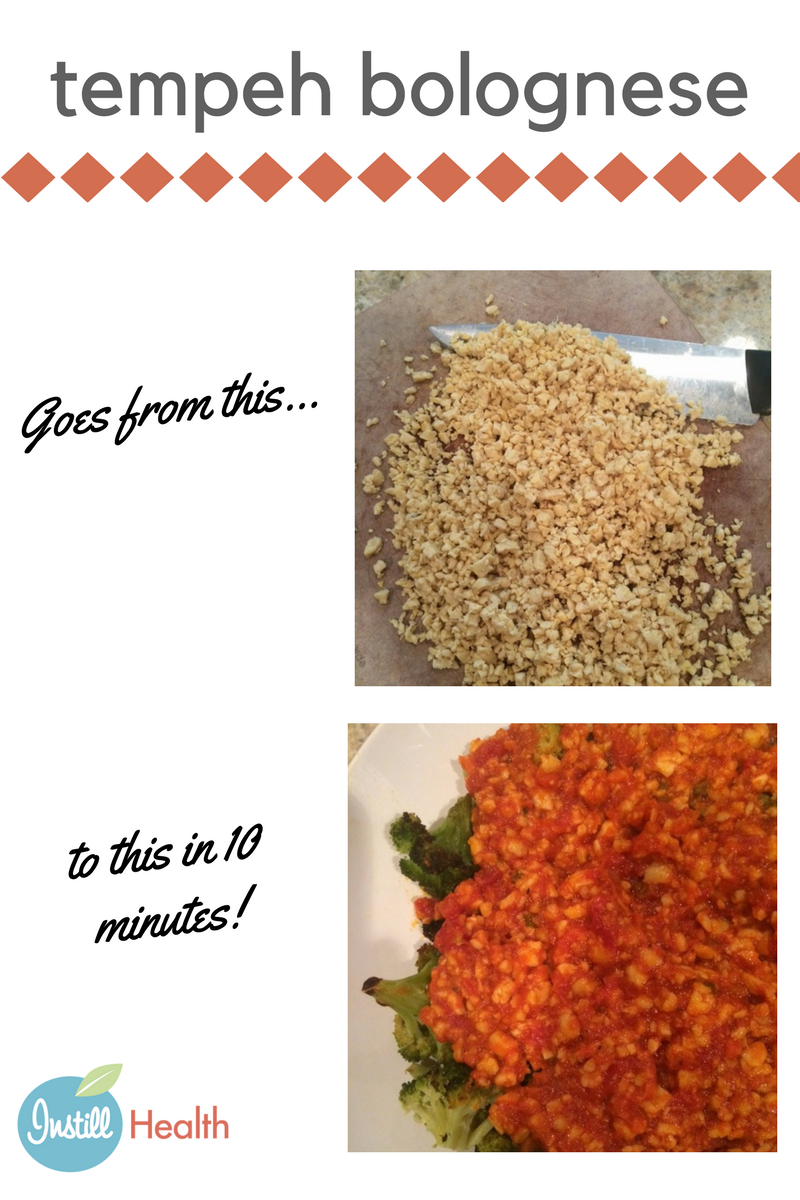 Tempeh Bolognese
Ingredients:
1 block tempeh

2 tablespoons olive oil

1/2 teaspoon salt

1/4  teaspoon garlic powder

1/4 teaspoon onion powder

1 1/2 cups Rao's marinara sauce
pasta, roasted broccoli, or zucchini noodles to serve the bolognese with

parmesan for topping
Instructions:
Cut up tempeh into tiny crumbles.

Heat the olive oil over medium heat.  Add the tempeh and saute for 5 to 7 minutes, until pieces start turning brown.

Add the onion powder, garlic powder and salt, and mix well.

Add the Rao's marinara sauce and allow to simmer for 10 minutes.

Serve on top of pasta, roasted broccoli or zucchini noodles.

Sprinkle with parmesan.
_________________________________________________________________________________________________
How would you feel if I told you that you can jumpstart your health and shed excess weight in 28 days without feeling the pain?  If this intrigues you, then check out Fresh Start 28, an online course unlike no other.