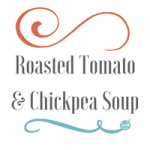 May, 2017
Dear Spring,
A few days ago I was watching my son play lacrosse.  IN A DOWN JACKET.  I mean, c'mon already!! Spring, what the heck are you doing?  You tease us in April with 75 degree days and then mess with our heads by producing 55 degree days in May?  REALLY?  Can't you just do what you are supposed to do??
Sincerely,
Someone who already put all of the winter jackets in the downstairs storage closet.
OK, enough of my ranting.  Yesterday, after my husband had to begrudgingly put the heat back on (Is it really true that it is bad to switch back and forth from heat to air conditioning?), I decided to embrace these last few nippy days of the season.  How, you ask?
By making a delicious, comforting, healthy soup!
The soup is a roasted tomato and chickpea soup that I first tried at my friend's house.  It was love at first slurp.  The dollop of sour cream on top was the perfect finishing touch.  I had my friend send me the recipe and I tweaked it just a bit.
I've made this soup a few times, and although this may seem obvious, if the tomatoes are not fully ripe, it makes a huge difference in taste.  So only make this if the Roma tomatoes you have are raring to go – and you know that by the color.  Make sure they are bright red from the bottom all the way to the top.
I also added a bit of parmesan cheese to the recipe, but feel free to omit it (as well as the sour cream) if you want to keep this recipe dairy free.
So go for it – make a hot, delicious soup tonight, while you can still enjoy it in the last few days of soup weather!
Roasted Tomato & Chickpea Soup
Ingredients:
1 1/2 pounds Roma tomatoes (about 8 to 10 of them_

3 tablespoons olive oil

2 teaspoons salt

1 large yellow onion, chopped

4 cloves garlic minced

1 teaspoon ground cumin

1/2 teaspoon paprika

3 cans chickpeas, drained

4 cups vegetable (or chicken) broth

1/2 parmesan cheese (omit if you want dairy free)

sour cream for serving (omit if you want dairy free)
Directions:
Preheat the oven to 450°F.

Slice the tomatoes in half and place face up in a single layer on a baking sheet. Brush with 1 1/2 Tbsp of oil and season with 1 teaspoon salt. Roast the tomatoes until they are soft and caramelized, 25-30 minutes. Set aside.

In a large, heavy pot, warm 1 1/2 Tbsp oil over medium-high heat. Add the onion and saute until soft, about 5 minutes. Add the garlic, cumin, paprika, & salt and saute for a few more minutes, stirring often so the garlic doesn't burn.

Add the chickpeas, roasted tomatoes (when they are done cooking), 1 teaspoon salt, and broth. Stir to combine, and bring to a boil. Reduce the heat to low and simmer for 45 minutes. Remove from the heat and let cool slightly.

Use an immersion blender to puree the soup, leaving it slightly chunky.  

Stir in the parmesan.

Serve hot with a dollop of sour cream on top.
Adapted from www.relish.com.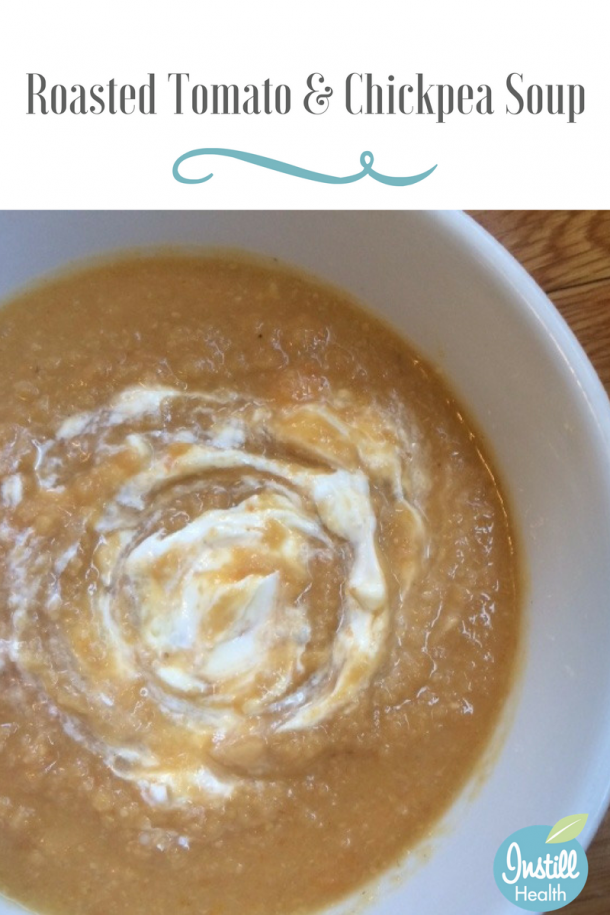 _________________________________________________________________________________________________
How would you feel if I told you that you can jumpstart your health and shed excess weight in 28 days without feeling the pain?  If this intrigues you, then check out Fresh Start 28, an online course unlike no other.