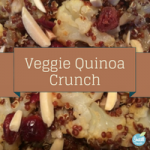 March, 2017
The other day my family visited my brother and sister-in-law and enjoyed quite a feast.  Upon returning home I decided it was the perfect night for a healthy, quinoa dish.
There are endless ways to prepare quinoa.  Hot.  Cold.  With veggies.  With meat.  Nuts, seeds, cheese….
I like experimenting with different combinations, and this time I scored a home run and couldn't wait to share it with you!  It's the perfect mix of veggies with some crunch and a little sweetness to boot! (Don't forget to check out the time saver tips at the end of the post.)
Presenting…
Veggie Quinoa Crunch
Ingredients:
1 cup red quinoa prepared with vegetable broth (instead of water)

2 tablespoons olive oil

1 medium onion, chopped

2 cloves garlic, minced

1 10 ounce package sliced mushrooms, chopped

1 bag frozen cauliflower

1 teaspoon sea salt

1/2 to 3/4 cup blanched almonds

1/2 to 3/4 cup dried cranberries
Directions:
Preheat the oven to 400 degrees.

Place the frozen cauliflower on a cookie sheet lined with parchment paper, and brush with one tablespoon olive oil.  Roast cauliflower for 45 minutes, stirring about 3 times throughout so that it browns evenly. (You can roast it more or less, depending on how browned you like it.  I, personally, like it pretty browned.)

In the meantime, prepare the quinoa according to package directions, using vegetable broth instead of water.

Saute the garlic in olive oil for 2 minutes in a medium to large saucepan.  Add the chopped onions and saute another 5 minutes.  Add the chopped mushrooms and saute for another 5 minutes, or until the mushrooms are completely cooked through.

Drain any remaining water from the mushroom/onion mixture and put back in the pan.

When the quinoa & cauliflower are finished, stir them both into the onion/mushroom mixture.

Stir in salt, almonds and cranberries.

Serve warm.
Time Saver Tips:  
Because of the following time saver tips, the only 'work' for this recipe was chopping the mushrooms, which for some odd reason I actually really enjoy doing!!
As you can see I used frozen cauliflower as a time saver.  (no washing, cutting, dealing with cauliflower crumbles all over the place)

I bought garlic already minced.

I bought onions prechopped.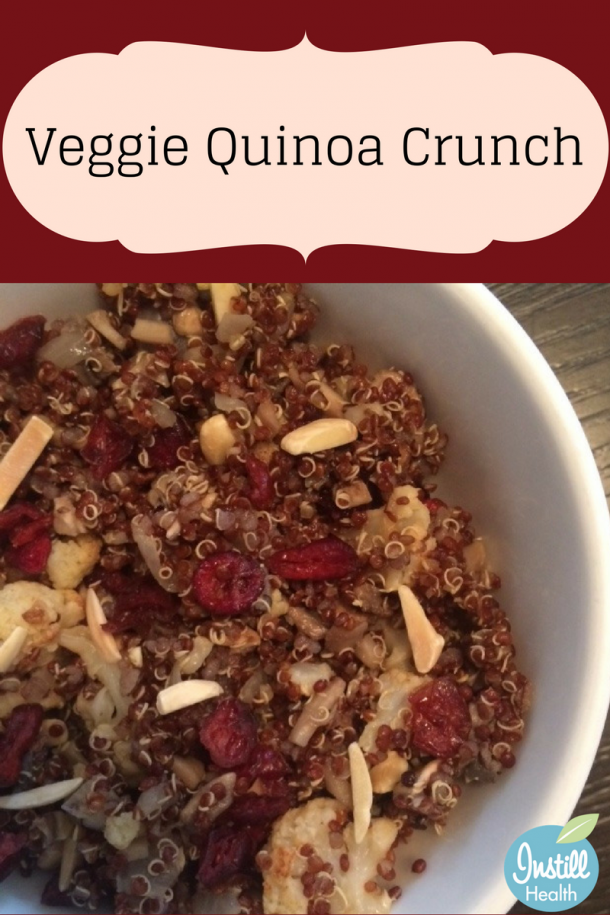 _________________________________________________________________________________________________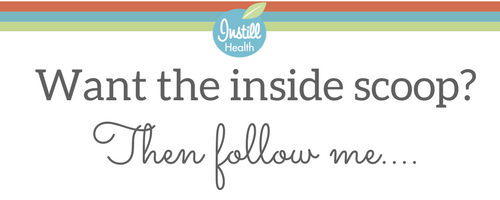 Do you want to know what my favorite kitchen gadgets are?  

Or what I eat for breakfast, lunch, & dinner?

Or incredible new food items I've discovered?

Or lunch ideas for kids?
If so, then you need to follow me on Instagram! 
That's where you'll find out all of the inside scoop – a day in the life of a health coach and busy mom.