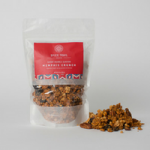 December 6, 2016
A few months ago I represented Instill Health at a local street fair.  I attend street fairs in an effort to spread the word about healthy eating, but my favorite part is meeting people and hearing about their particular journeys dealing with diet, health & wellbeing.
At this particular fair I met a woman named Brooke.  Brooke has a company that makes healthy, all natural snack food and approached me recognizing that our missions aligned.
What is her product, you ask?
Granola!
But wait!
I know you are probably thinking that there are tons of granola brands out there on the market already,  but this granola is unlike ANY granola I have ever tasted.
As the company name, Spice Trail Snacks, suggests, this granola has a distinctive, savory SPICE to it!  The perfect blend of heat and sweetness is to die for!  I became addicted from my first try.
I have been enjoying a snack pack in between lunch and dinner and I can't tell you how I look forward to it!
Brooke told me that in addition to eating Spice Trail Snacks straight from the bag, they add bold flavor over soups, salads, avocado toast, and baked potatoes and I absolutely can't wait to give it a try!
She also suggested adding them to your standard baked Brie or warm goat cheese for the perfect holiday appetizer!
You can click here to find out about the inspiration behind Spice Trail Snacks, and to learn more about the co-founders, Brooke and Preeti.
Right now Spice Trail offers 2 incredible flavors: Bombay Crunch and Memphis Crunch, and Instillers can receive 10% off through January 15th!  Just use the code InstillHealth at checkout.
I also love that you can purchase them in snack size pouches which makes portion control super easy.
Congratulations to Brooke and Preeti on creating a unique, deliciously unforgettable version of a seemingly common snack food.