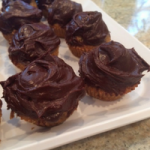 December 20, 2016
This frosting is seriously delicious.  You probably won't believe me when I tell you what's in it, but I'm telling you – it is to die for!
This frosting is gluten free, dairy free, & confectioners sugar free.
But even better than what it is NOT in it is what IS in it! 
AVOCADOS!
Don't get grossed out.  I promise you that you do not taste the avocado.  You only taste chocolatey goodness from the cacao powder and maple syrup.  The avocado is there to give it a creamy, frosting like texture.
And lastly, it literally takes 4 minutes to make.  Put the avocados, maple syrup and cacao powder in a blender and blend.  That's it!
I didn't want to JUST give you a fantastic, healthy alternative to frosting without including something to spread it on, so I've included a recipe for a healthier version of vanilla cupcakes as well that are also gluten free and dairy free!  
But feel free to make the frosting and dip strawberries in it, put it on top of graham crackers, or even eat it plain – I won't judge!
Vanilla Cupcakes with Chocolate Frosting (Gluten Free, Dairy Free)
Frosting Ingredients:
2 ripe avocados with skin removed

1 cup cacao powder*

1 cup pure maple syrup (add more syrup if you like it sweeter)
Frosting Directions:
Blend all ingredients in a blender until smooth.
*According to www.iquitsugar.com: raw cacao powder is made by cold-pressing unroasted cocoa beans. The process keeps the living enzymes in the cocoa and removes the fat (cacao butter). Cocoa looks the same but it's not. Cocoa powder is raw cacao that's been roasted at high temperatures. Bottom line: cacao powder is much healthier that cocoa powder!
Vanilla Cupcake Ingredients:
2 cups oat flour (can use whole wheat flour if not gluten free)

1/2 cup coconut oil, melted (can use butter if not dairy free)

1 teaspoon baking powder

1/2 teaspoon salt

2 eggs

1 cup almond milk (can use regular milk if not dairy free)

3/4 cup coconut sugar (make sure you get all of the clumps out)

1 teaspoon vanilla extract
Vanilla Cupcake Directions:
Preheat oven to 375 degrees.

Line cupcake tin with cupcake liners and spray a tiny amount of spray coconut oil in each one.

Blend all ingredients in a bowl until smooth.

Divide among cupcake tin.  Make sure you to put the same amounts in each one so they all cook evenly.

Bake between 14 and 18 minutes.  (14 minutes if making mini cupcakes and 18 minutes if making regular ones)

Remove from oven and let cool completely before frosting.