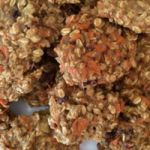 December 27, 2016
I wanted the last post of 2016 to be a sweet one, so below please find an easy, healthy recipe for carrot raisin oatmeal cookies.  I made these a few days ago and brought them over to our friends' house.  They were quickly devoured and got a huge thumbs up.
What I love about these cookies is that they can easily pass for a healthy snack.  The only sugar is 1/2 cup of pure maple syrup for the entire recipe!  The rest of the ingredients are good to go: oatmeal,  ceylon cinnamon, unsweetened applesauce, walnuts and carrots!  
You can even sub out whole wheat flour for almond flour or oat flour to make them gluten free. 
So go ahead – have a few for an afternoon snack with some hot tea – no guilt necessary!
Carrot Raisin Oatmeal Cookies
Ingredients:
1 cup oatmeal

3/4 cup whole wheat flour 

1 1/2 tsp baking powder

1 tsp Ceylon cinnamon

1/2  tsp salt

2 tbsp unsalted butter, melted 

1 large egg, room temperature

1 tsp vanilla extract

1/2  cup pure maple syrup

3/4 cup freshly grated carrot (about 2 medium, peeled first)

1/4  cup unsweetened applesauce 

1/4 cup crushed walnuts  

1/4 cup raisins or craisins

1 tablespoon coconut sugar (optional)
Directions: 
Whisk together the oats, flour, baking powder, cinnamon, and salt in a medium bowl. In a separate bowl, whisk together the butter, egg, and vanilla. Stir in the maple syrup. Add in the flour mixture, stirring just until incorporated. Fold in the carrots, applesauce, walnuts and either craisins or raisins.  Place the cookie dough in the refrigerator for 30 minutes to chill.

Preheat the oven to 325°F, and line a baking sheet with parchment paper.  Grease the parchment paper with coconut oil spray.

Place the cookie dough into rounded scoops onto the prepared sheet, and flatten to about half of their original height using the back of a spoon. Sprinkle each cookie with a pinch of coconut sugar for a little extra sweetness.  Bake for 12-14 minutes.  (Makes about 15 cookies)