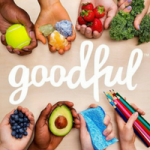 January 9, 2017
Have you heard of Goodful?  I'm obsessed.  If you follow them on facebook you will get these awesome video recipes that show you how to make an entire meal in a 5 second video. I can watch those things all day!!
When I came across a recipe for Chocolate Banana Mug Cake, I knew I had to try it.  It looked super easy to make, the ingredients were on the healthier side (although after a few tries I ended up changing them a bit) and it looked rich and decadent.
I kind of wanted to sink my face into it.
So I did.
Not only is it super chocolatey and gooey and yummy, but it is so much fun to eat!  A cake out of a mug?  I mean, c'mon!?  What a treat for the kiddos!
You can see the original video and recipe here, but I suggest you use my revised recipe below because after 3 tries I nailed it! 
Either way, you'll still be eating cake out of a mug, so it's all good!!
Chocolate Banana Mug Cake
Wet ingredients:
1 egg
2.5 tablespoon butter from grass fed cows
1/4 cup maple syrup
3 tablespoons milk
¼ teaspoon pure vanilla extract
Dry ingredients:
7 tablespoons whole wheat flour
3 tablespoons cocoa powder
½ teaspoon baking powder
⅛ teaspoon salt
For the filling:
1 banana, mashed
1.5 tablespoon chocolate chips
Instructions
Whisk together egg, butter, syrup, milk, and vanilla extract in a small bowl.

Whisk together flour, cocoa powder, baking powder, and salt in a small bowl.

Pour the wet ingredients into the dry ingredients and mix until combined.

Get 2 smallish mugs.

Fill mugs half way with the chocolate batter.

Divide the banana filling between the 2 mugs.

Place remaining chocolate batter on top.

Microwave on high for 1:15.
Please note – you DON'T want it to cook 100% of the way through – that is what allows you to get the gooey deliciousness!